New Student Info
Official Class of 2026 T-Shirt
Want to design the official Class of 2026 T-Shirt? We're holding a contest and you get to pick the winner! Submit your t-shirt design for the official Class of 2026 t-shirt to Ms. Johnson at tecarroll@cps.edu by Tuesday, August 2nd. Then revisit this site and check your email to vote for the winning design. Voting will take place from August 3rd-7th. All freshmen are encouraged to submit designs and/or vote. The winning design will be posted here, and you can and purchase t-shirts at Quick Start on August 17th for $10.
Congratulations to Asha Westrope Pellot, who designed the winning Class of 2026 T-shirt!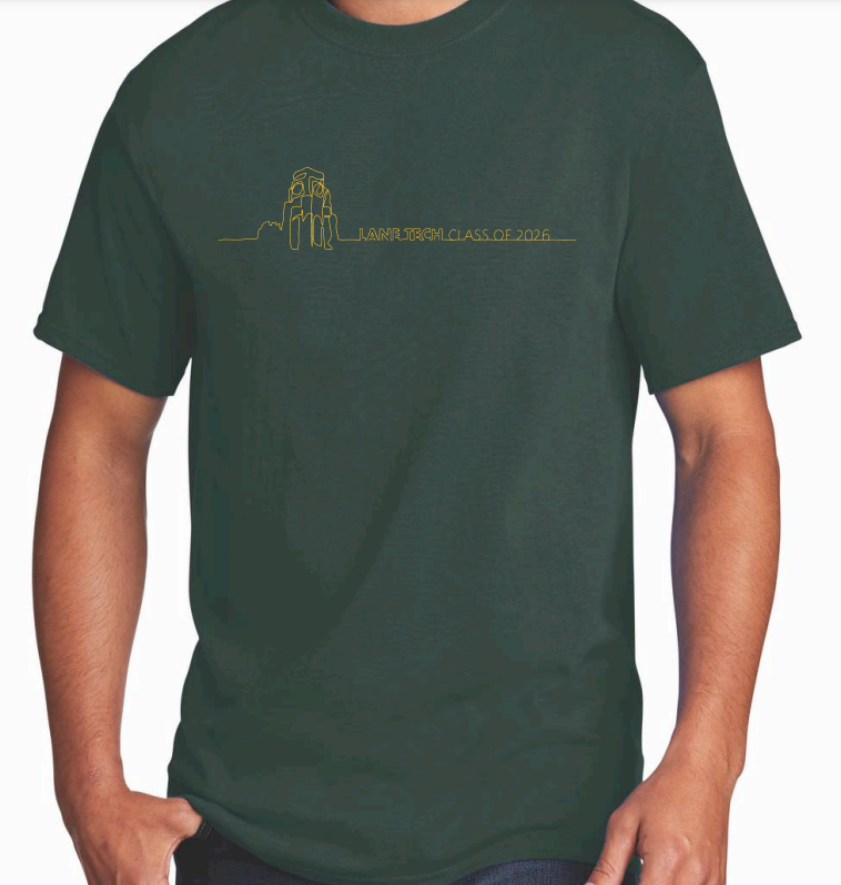 Freshman Year Classes
A tentative program has been built based on your enrollment form.  Your freshmen year classes are available on the Class of 2026 Course Selections page. Math courses will be updated based on the results of the CPS Algebra Exit Exam. Students will be programmed for Alpha once Algebra Exit Exam results are available.  Actual schedules will not be available until Quick Start.  Mentor information and Advisory (homeroom) will be available at a later time on the Course Selections page.
Current LTAC students received an email from Ms. Hildebrandt after course selections that listed the seven courses that the student will take next year as well.

Mandatory Summer Reading Assignment
All freshmen enrolled in English I are required to complete a summer reading assignment. Click the links below for the summer reading assignment.  If you are not sure which one to complete, check the Course Selections page above to see which English class you will be taking.
Alpha English I Summer Assignment
H English I Summer Assignment
H English I Summer Reading Packet
Omega English I Summer Assignment
If you are enrolled in English II, you are also required to complete a summer reading assignment. This applies to students coming from Academic Centers.
English Department Summer Assignments
All summer assignments are due the first day of school unless otherwise noted on the individual assignment.
New to Chicago Public Schools?
Establish your CPS email address by following these quick steps: CPS Email Account Instructions. If you don't remember your CPS ID number, you can log into your GoCPS account and click 'View Test Scores'. You will see the student's CPS ID number on that page. You can also review the online enrollment confirmation receipt.  The CPS ID was one of the first questions you answered. Students new to CPS may not be able to establish this account until mid-July of 2022.
Medical Records
All freshmen are required to submit a physical examination form for the 2022-2023 school year. The physical must include a current T-DAP vaccination. Please ensure that your child has received the T-dap vaccine within the last ten years or will receive it during the physical examination visit. Please make a copy of your child's physical for your records. Physicals must take place June 15, 2022** or later and are due at Quick Start. Click here to access a copy of the physical form that is required by CPS.
All students who are participating in any sport or summer sports camp must also complete an Illinois High School Association (IHSA) physical form in addition to the CPS physical form. These can be completed at the same time by your doctor. Both forms are required for students participating in any high school sport or activity.  Click here to access the IHSA physical form.
**Some schools have required students to have a physical completed before graduating eighth grade.  Physicals are good for one year.  At the time of Quick Start, students who have had a physical within the year can submit the existing physical.  Students should then submit an updated physical when their current physical expires.
Ventra Cards
Incoming freshmen will purchase their Ventra cards during Quick Start for $6, and will receive their card during the first week of school.  If you have an existing CPS Ventra card, you should continue to use it until you receive your new one.  The student rate is not available during the summer.  The Ventra card also serves as your CPS student ID.

Click on the following links for more information
Chicago Public Schools 2022-2023 Calendar: English | Spanish
Join Friends of Lane
High School Supply List
Students in Temporary Living Situations
Minimum Health Requirements 2022-2023